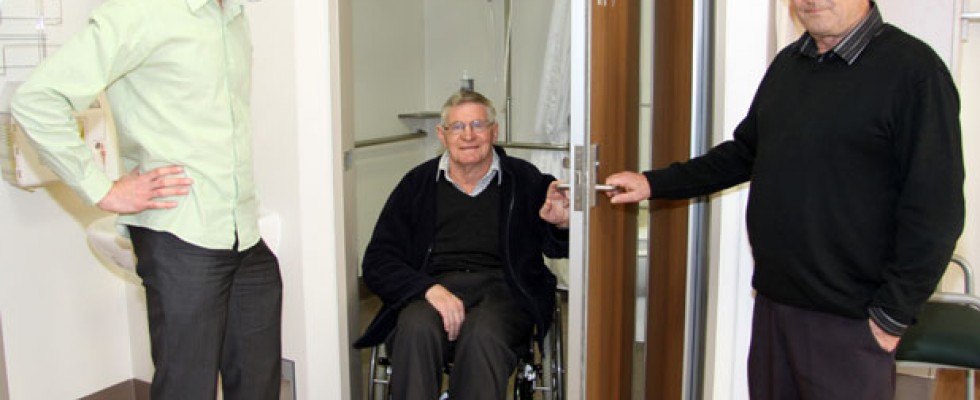 It may not be finished yet, but the new portion of Taranaki Base Hospital has already got the thumbs up.
With special folding doors, lowered counters and personalised televisions for patients the new building is disability friendly.
Last week Midweek went on a tour of an adult ward with Taranaki Disability Information Centre manager Brian Eriksen, Taranaki District Health Board Disability Action Group chairman John Major and base hospital redevelopment project manager Steve Berendsen.
Mr Eriksen said the disability action group, which he is part of, was approached for input on the hospital designs to make it more accessible for everyone.

"That's how they've come up with the design that they've got," Mr Eriksen said.
"The hospital really did listen to all of the consumers on what they felt was necessary."
One of the good things to come from the project is that more people are beginning to have an understanding of what it's like to have a disability, he said.
"Once you have that understanding you just buy into it. Everybody's buying into it."
Mr Major said the inclusive process and the outcome was a credit to the health board.
"It hasn't happened at other hospitals.
"The architects say this is how it's going to go and consequently
there have been a lot of facilities constructed that have not been totally adequate for the needs," Mr Major said.
Features of the new area include clear signage, a different colour theme for each floor and lower and higher counter-tops in reception areas.
Mr Eriksen said the lowered counters are easier to use for people in wheelchairs or elderly people who need to sit down to write.
Inside the ward, the toilets have special folding doors which open both ways and door frames are wide, making access easier.
The bathrooms are fitted with special arms beside the toilets, lowered mirrors and hand-towel dispensers, and easier access to alarm buttons.
Patients have their own televisions with a special bedside operating pad, which also controls an overhead light and can call the nurses.
One of the things everyone in the group was proud of was a hoist system, which will be useful for larger patients.
This system, only in a few rooms, includes ceiling tracks to assist with getting patients in and out of bed and to the bathroom.
Hoists can lift patients weighing from 250 kilograms to 400kg and will also cut down on the number of hospital staff required to help move people.
Mr Berendsen said the overall cost of the building project was $80 million.
It cost about $500,000 for the special folding toilet doors and hoist system.
"There's a high price to put in doors like that but there was a decision made early on that that was the price we'd pay."
Mr Berendsen said what they've learnt through the Taranaki Base Hospital project will be passed on to other rebuilt hospitals around New Zealand.
The overall design of the new area is simple and spacious.
Patients begin moving over to the new wards in August, with an official opening early next year.