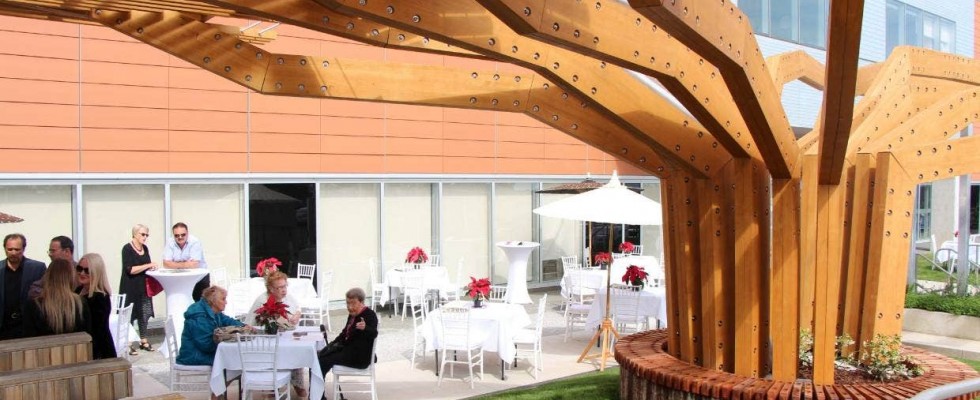 A new garden 18 months in the making has been officially opened at Taranaki Base Hospital.
The mobility garden, designed by New Plymouth architect Murali Bhaskar, was installed to aid in the rehabilitation of patients.
Speaking at the opening ceremony, Bhaskar said the garden was designed to enhance visitor and patient experiences.
"As an architect, it's always exciting to be part of a project that's changing the way we experience the world," he said.

"When we embarked on the project we soon realised that as well as being a functional space, due to it's prominent location, it also serves as an entry feature enhancing the arrival to Taranaki Base Hospital."
The key structure in the garden was a wooden sculpture in the form of a tree, representing life, growth and wellbeing.
A sensory garden was also included in the installation, which was gifted by the Blind Foundation to mark their 125th anniversary.
The mobility garden cost around $400,000 to create and was funded by a number of sponsors around the region.
It was officially opened by New Plymouth mayor Andrew Judd at a ceremony on Monday morning.
Taranaki District Health Board acting chief executive Rosemary Clements said the benefits of the garden were three-fold.
"If people have had surgery, or they might have had a medical event such as a stroke, then they'll use it for their rehabilitation. There's steps, there's ramps, lots of different surfaces to walk on. So that's all planned to please aesthetically, obviously, but also for the rehabilitation," Clements said.
Clements said she was really pleased with the final product, and it would be a great space for patients, visitors and staff to enjoy.
"We're hoping to have a coffee kiosk set up in the next few months, so visitors can go out there, have a cup of coffee, have a break, so that way it's used not only for the patients but the visitors and the staff as well," Clements said.
Taranaki Health Foundation general manager Bry Kopu said the Mobility Garden was a true celebration of community spirit and giving.
"If it wasn't for the generous support of our partners, business and community supporters, the garden would not have been possible," Kopu said.