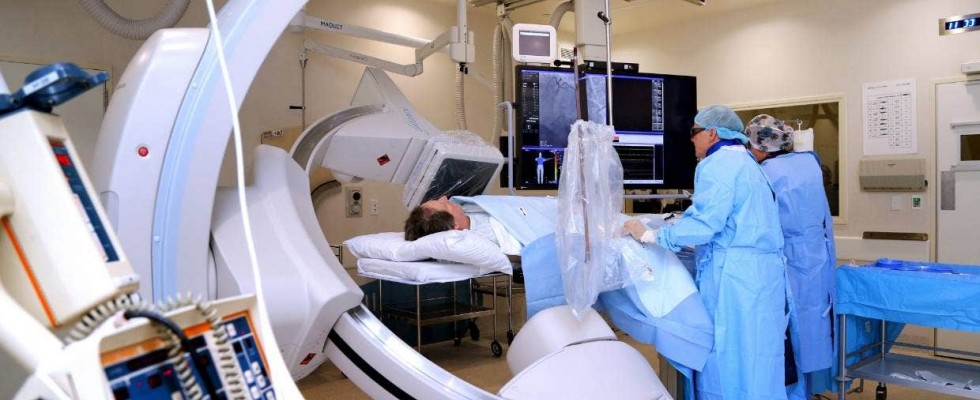 After two years of planning and 17 months of fundraising, Taranaki's $3.6 million health suite is finally seeing patients - more than a month before its official opening.
About 20 people have already visited Taranaki Base Hospital's new angiography suite, which includes a heart X-ray, despite its official opening day being August 26.
Angiography is a technique that maps the vessels in a person's heart and the new suite will make it easier for patients to receive diagnostic services in New Plymouth rather than travelling to Waikato Hospital.
Staff say comparing the new technology to what was there before was like "comparing a flame to a flashlight".
"Having the facilities here greatly reduces the number of patients who have to travel to Hamilton," Taranaki District Health Board clinical service manager Steve Berendsen said.
"However, some patients will have to continue to travel there for surgeries that we don't currently offer."
As provincial hospitals go, Taranaki will have the newest technology and cardiologist Ian Ternouth said the hospital planned to increase the services if offered.
"Because it was built as an operating theatre suit, we have the potential to offer vascular [blood vessel] surgical procedures in the future," Ternouth said.
"We are looking to expand and offer pacemakers and stents.
"But first, we need to learn the machine and build from there."
Staff have undergone two weeks of training and will continue to learn as "there were levels of complexities" to the new suite, Ternouth said.
"We are so happy with the new machine. It's quantum leaps better.
"It produces a lower dose of radiation, so the machine is safer and allows for faster diagnosis.
"It's like comparing a flame to a flashlight. The old machine was there, but not to this level of sophistication. The imagery has vastly improved."
Doctors, nurses and patients can watch a giant television that depicts eight different sets of images in real time.
"We're able to get better information to work with and ultimately reduce the number of referrals," Ternouth said.
He had wanted the suite for five years.
"I was afraid the old machine would die before we got the new suite up and running," Ternouth said.
"For patients and their families, travelling to Waikato is not only an anxious time for everyone but disruptive and expensive.
"There is such an advantage to having this new machine here."
Funding for the suite began with a $1.2 million donation from both the Taranaki District Health Board and the Taranaki Electricity Trust.
The remaining amount was raised through donations from corporate businesses and community events, including two silent auctions.
Taranaki Health Foundation general manager Bry Kopu said a big push from the community had been needed.
"The suite will help grow our hospital and its services. It could attract professionals from abroad and allow us to retain high-level staff," Kopu said.
"It was a great effort by our community and we thank the people of Taranaki for helping us get it."