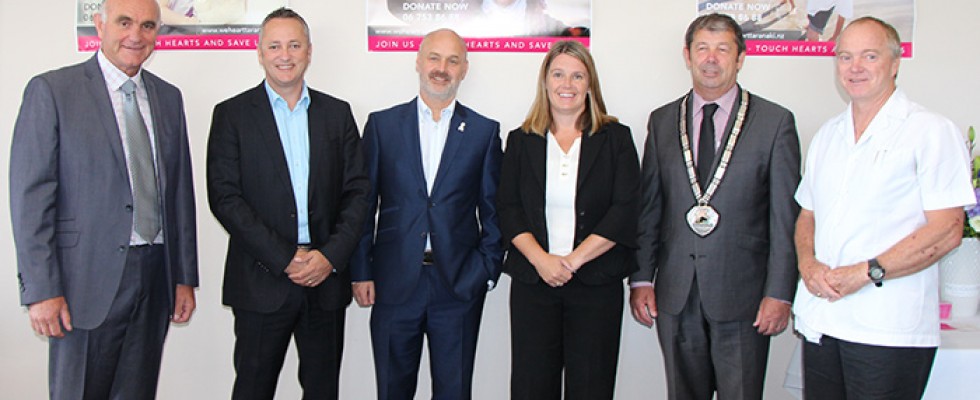 The Taranaki Health Foundation is thrilled to announce Methanex New Zealand as the major corporate sponsor of the WE HEART TARANAKI community fundraising campaign launched in Stratford today. The campaign aims to raise $1.2 million towards the cost of a new angiography suite at Taranaki Base Hospital.
"Foundation Chairperson Michael Joyce said, "With Methanex providing a genuine kick-start to the WE HEART TARANAKI campaign, we now feel the fundraising target is achievable enough for us to go out to the community and ask other businesses and individuals for their support."
Brian Ropitini, Methanex Director of Manufacturing said, "We are excited to be partnering with the Trust for making a new angiography machine a reality for all of Taranaki. We see this as a great fit with Methanex's Responsible Care Commitment which is focused on Health and Safety, and as a significant investment from us to help improve the health and wellbeing of the whole community," he said.
He said the partnership is also a great opportunity for staff to get involved in fundraising and giving back to the community.
Angiography is an X-ray technique to visualise the inside of blood vessels. The new machine will make it easier for everyone in our community to access cardiology and vascular care.
Mr Joyce said, "The Trust has named the campaign, 'WE HEART TARANAKI', because they want everyone to get behind the effort and feel proud that supporting this project will save lives and benefit families in Taranaki."
"We are raising money not only for a new angiography machine but also for the special fit out it requires to make the room sterile and safe to use. Every cent raised will go towards the purchase of the angiography machine and special fit out required," added Mr Joyce.
WE HEART TARANAKI recognises the partnership of the Taranaki Health Foundation, Taranaki Electricity Trust (TET) and Taranaki DHB to enable a new angiography suite for the region. TET has pledged $1.2 million towards the much-needed technology, with Taranaki DHB prioritising a further $1.2 million from its operating capital. Another $1.2 million is to be fundraised by the community campaign, to a total of $3.6 million.
Why Taranaki needs a new angiography suite
Heart disease is the biggest killer of men and women aged over 40 years today. It is bigger than any cancer and it is getting worse. Of the 110,000 people in Taranaki, 41% in our community are at risk of cardiovascular disease and this is growing because we have an ageing population.
Heart disease is very treatable but we need access to the right equipment to diagnose the problem correctly. The old angiography machine at Taranaki Base Hospital has reached the end of its life, so to meet the growing demand for angiography services a new machine is needed.
A new angiography suite will make it easier for Taranaki residents to access angiography diagnostic and treatment services locally rather than travelling to Waikato. Currently there about 400 patients per annum travel to Waikato to access specialist cardiology services. That number will be greatly reduced by the new suite.
"Everyone with a heart will benefit" said Taranaki DHB Cardiologist Dr Ternouth. "For patients and their families, travelling to Waikato is not only an anxious time for everyone but disruptive and very expensive."
The new angiography suite will also make it easier for patients to access to a wide range of services including: coronary angiography, endoscopic services, interventionist radiology and epidural pain injections. Essentially it will allow more procedures to be done here in Taranaki, more quickly and at a reduced cost.
The aim is to have the new service up and running by the middle of 2015.
People can support the WE HEART TARANAKI campaign by downloading a 'pledge' form here, donating on Give-a-Little, TSB Bank online or at any TSB Bank branch in Taranaki.
For more information please contact:
Bry Kopu, Taranaki Health Foundation Manager, 021 0242 3808 or bry.kopu@tdhb.org.nz; or
Cressida Gates, Taranaki DHB Media Advisor, 027 703 6177/cressida.gates-thompson@tdhb.org.nz