Charlie Smith is used to people assuming he is diabetic.
He's not, but it's a common misconception that renal patients must be diabetic when they require dialysis – a procedure that removes waste products and excess fluid from the blood when the kidneys stop working properly.
"A lot of people think I'm diabetic, but no. I was panel beating at a young age – in my mid-teens – and I had to go for a medical and that's how they picked it up," says Charlie, who lives in New Plymouth, but is from Hāwera and of Ngāruahine decent.
"I went and got my kidneys checked, went to specialists, had blood tests and all that, and then the doc said, you'll probably need a new kidney when you're 30. Back then, I was pretty blaze about it. I had a 'she'll be right' attitude.
"I wasn't sick. My family hasn't got any issues. It's really weird. They just said both my kidneys were stuffed and they didn't know why. Must have picked up a disease or something – basically bad luck."
Now 46, Charlie was just 27 when he started peritoneal dialysis. That's where a sterile cleansing fluid is put into the stomach through a catheter. After the filtering process is finished, the fluid leaves the body through the catheter.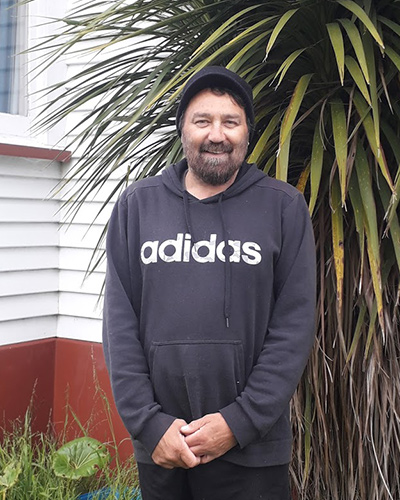 By age 31, in 2005, he was fortunate enough to reach the top of the list for a donor single kidney transplant.
"After the transplant, my body felt like a V8, it just went boom instantly."
At the time, the specialist said the donated kidney was expected to last 15-to-20 years. On cue, in November 2019, 15 years after the transplant, Charlie's health started to decline again.
"I was pretty bummed out when the doctor told me I'd need to start dialysing again. I'm on a transplant list, but it's going to be a hard one to get again but, fingers crossed, I hope so."
Renal failure prior to his transplant, and now, means Charlie has had a long association with the region's renal unit. That was a reason why he has chosen to champion the Taranaki Health Foundaton's Love Our Kidneys campaign to raise $500,000 for enhancements to a new purpose-built, stand-alone renal unit at Taranaki Base Hospital.
"I used to travel to the renal unit at the hospital a couple of times a week, from Hāwera and then from Cambridge when I lived up there, to dialyse and then travel home. It's going to be great to have a new unit to help so many people," he said.
The money raised through Love Our Kidneys will be used for technology and equipment to enhance the patient comfort, experience and quality of care at the new renal unit being built on David Street as part of the Project Maunga Base Hospital redevelopment.